Portland's Brian Michael Bendis and David F. Walker on seeing their 'Naomi' comic get the TV treatment
The Oregonian Jan. 25, 2022
EXCLUSIVE: Bendis & Byrne Debut Jinxworld's Stunning Sci-Fi Series, Joy Operations
Writer Brian Michael Bendis is coming out with a new creator-owned title published by Dark Horse Comics, Joy Operations, alongside artist Stephen Byrne, and CBR has obtained an exclusive preview of the upcoming series. CBR NOV. 01, 2021
'Ironheart': Marvel-Disney Plus Series Sets Chinaka Hodge as Head Writer (EXCLUSIVE)
Variety Apr. 27, 2021
Inside the 'Naomi'-Verse With Ava DuVernay and Kaci Walfall
Variety Jan. 11, 2021
Brian Michael Bendis' 'JINXWORLD' finds his new home at Dark Horse Comics
Award-winning and bestselling author, Brian Michael Bendis, brings his acclaimed line of creator-owned titles, Jinxworld, to Dark Horse Comics. Darkhorse Aug. 19, 2021
Brian Michael Bendis Moves His Jinxworld Line to Dark Horse
The writer is unveiling the new creator-owned title 'Joy Operations' for the publisher, which will become home to comics such as 'Powers.' The Hollywood Reporter Aug. 16, 2021
Dominique Thorne to Lead 'Ironheart' for Disney+ and Marvel
Dominique Thorne is bringing a fan-favorite Marvel character to the screen with 'Ironheart.' The Hollywood Reporter Dec. 10, 2020
Ava DuVernay Sets DC Comics Drama 'Naomi' at The CW
Ava DuVernay Sets DC Comics Drama 'Naomi' at The CW The Hollywood Reporter Dec. 4, 2020
Brian Michael Bendis Talks Legion, Gold Lantern, & Balancing Characters
Brian Michael Bendis talked to Screen Rant about the Legion of Super-Heroes, the new Gold Lantern, and finding a balance with so many characters. Screenrant Sep. 29, 2020
BENDIS & OEMING's POWERS Returns – And It's Bigger Than Ever
Brian Michael Bendis talks about Spider-Man: Into the Spider-Verse and taking on writing for Superman as well as Legion of Super-Heroes. Newsarama Nov. 15, 2019
Seth Off-Air: Brian Michael Bendis
Seth Meyers and Mike Shoemaker talk to legendary comic book writer/illustrator Brian Michael Bendis. Seth Meyer Podcast Aug. 12, 2019
Seth Meyers geeks out on Brian Michael Bendis, who says you can't write Superman and be an asshole AV Club Jul. 27, 2019
Brian on Late Night with Seth Meyers
Brian Michael Bendis talks about Spider-Man: Into the Spider-Verse and taking on writing for Superman as well as Legion of Super-Heroes. NBC Video Page Jul. 27, 2019
Brian Michael Bendis Signing
Signing at Midtown Comics
Jul. 24, 2019
TIME Came to Bendis' House to Talk to Him About Superman
It was cool! Watch it below.
Creating 'Spider-Verse's Miles Morales Was "Scary," Original Writer Says
Brian Michael Bendis opens up on the Oscar nomination for 'Spider-Verse' and reminisces on the creation of Miles Morales. Read the Article Here!
Inverse Feb. 24, 2019
For a Comic-Book Writer, 'Superman' and His Own Line Are Two Blessings
Brian Michael Bendis was hired by DC to work on the iconic superhero as well as Jinxworld, his independent-flavored line Read the Article Here!
Wall Street Journal Dec. 26, 2018
Cleveland Heights Native Brian Michael Bendis Brings Miles Morales 'Into the Spider-Verse'
Article about Brian creating Miles Morales Read the Article Here!
ideastream Dec. 14, 2018
Brian Michael Bendis On Reviving 'Young Justice' With the Original Cast
Interview with Brian about the new Young Justice. Read the Article Here!
Comicbook.com December 10, 2018
Our Superman
Created here 80 years ago, the man of steel gets a modern makeover in the hands of Cleveland native Brian Michael Bendis — just when we need him most. Read the Article Here!
Cleveland Magazine December 12, 2018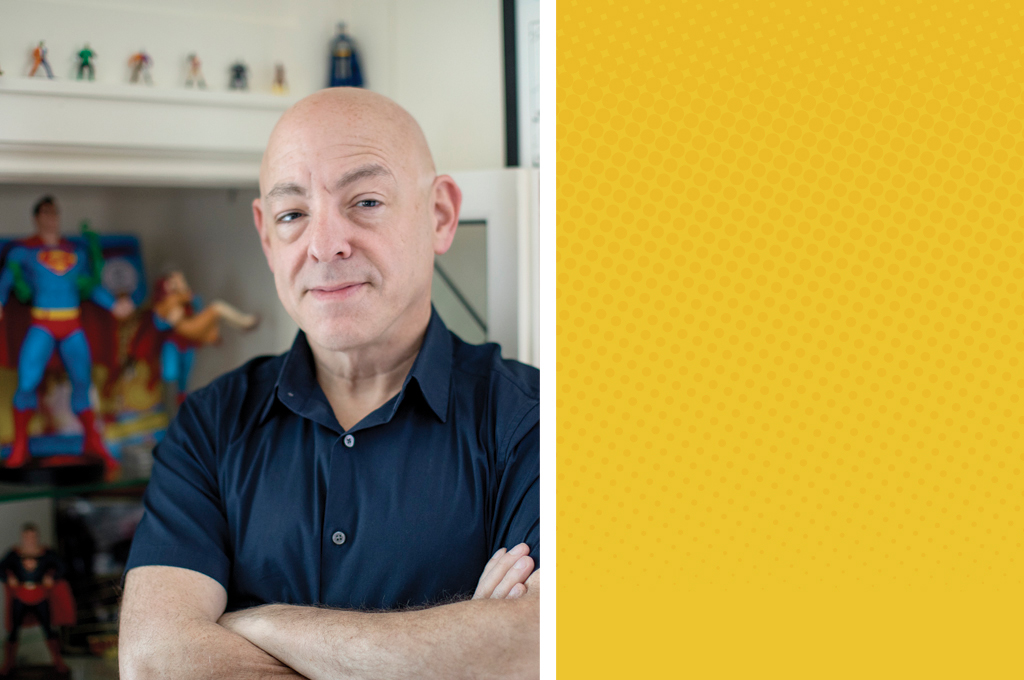 Miles Morales, the Spider-Man who survived the multiverse
Who can be Spider-Man? For writers and fans, Miles became the answer. Read the Article Here!
Polygon December 18, 2018
JINXWORLD at Rose City Comic Con 2018
Jinxworld is headed to Rose City Comic Con for all three days, September 7-9. Stop by the Oregon Convention Center in Portland for special events, giveaways, and more! Get your tickets at rosecitycomiccon.com and check out our events page to see what we'll be up to.
Bendis on the Apolitical Politics of Scarlet
Newsweek interviewed Brian about bringing back his revolutionary heroine, Scarlet. Want to learn about the politics of social collapse and a one-woman war on injustice? Check it out!
Den of Geek on the Future of Jinxworld
Den of Geek published an interview with Bendis about returning to Jinxworld and his creator-owned comics: Cover, Scarlet, United States vs. Murder, Inc., Pearl, and Takio. The gang's all here!
Paste Magazine Picks Scarlet #1 as Required Reading

Thanks, Paste! Check out the complete list here.
"Pearl #1 is a Gorgeous Crime Comic"
 But don't take our word for it! Check out IGN's review of the first issue of Bendis' new comic, Pearl, to see all the nice things they had to say about us.
Bendis on Making Pearl
Brian talked to Rosie Knight at Nerdist about the process behind Pearl, his new creator-owned Jinxworld comic with Michael Gaydos. Learn about how the two worked on the idea for the comic for almost a decade here.
Newsarama Pearl Preview
Newsarama interviewed Bendis to preview Pearl. They talked about tattoos, assassins, and… oh yeah, comics! Give it a read!
"Michael Bendis Survived a Near-Death Experience–Now He's Ready to Make the Best Comics of His Career"
It's all true. Read all about in Brian's interview with Paste Magazine, here.
Bendis = Comics, Tattoos and Revolution
Entertainment Weekly talked to Brian about his new work at DC. There's no beating that headline, so you'll just have to check it out yourself!
Bendis Says Goodbye to Miles Morales
Gizmodo published an article about the real-life inspiration for Brian's goodbye to Miles Morales. Not to spoil it, but let's just say that all friends are super friends.
Superman Turns 80!
Brian sat down with The Mothership podcast to talk about eight decades of the Man of Steel. Check it out below:
Meanwhile, WKYC in Cleveland made a great video about 80 years of Superman and his Cleveland roots. Definitely worth a watch!
Facing Death and Why America Still Needs Superman
Bendis talked to the Daily Beast leaving Marvel, bringing back Superman's red undies, and the time he almost died. Read it here!
Bendis Makes His Superman Debut with Action Comics #1000
UPI did a write-up on Brian's Superman premiere celebrating the 80th anniversary of Superman along with a bevy of other amazing artists and writers.
We can't think of a better way to start than this 80-page issue making 80 years of a great character. Read the article here!
"Can This Man Save Superman?" Asks the New York Times
There's only one way to find out… by reading Superman, of course!  This article from the New York Times about Brian's very busy year is a pretty good read, too.
Jinxworld in The Hollywood Reporter
Brian talked to The Hollywood Reporter about two of his new Jinxworld comics, Pearl with David Mack and Pearl with Michael Gaydos. Read it!
Bendis on Jinxworld, DC, and Superman in Forbes
Brian gave Forbes an exclusive preview into the future of his work at DC and Jinxworld, including his upcoming Man of Steel miniseries. Take a look to get his thoughts on Superman, his original characters, and much more.
Cleveland Rocks
Last fall, Bendis returned to his hometown of Cleveland, Ohio for a wedding. While there, he visited a Superman exhibit at the Cleveland Library. Although the Man of Steel may have been born on Krypton, Jerry Siegel and Joe Shuster brought him to life in Ohio. Brian's visit helped him realize that he wanted to be the next Clevelander to tell Superman's story. You can read all about it on Ceveland.com or click the image below to go to their gallery.
Ch-Ch-Ch-Changes
As some of you may have noticed, we had some big changes happen this year!
This is real. I love you all. Change is good. Change is healthy. I am bursting with ideas and inspirations. Details to come! Stay tuned! https://t.co/S1x5JDmGTt

— BRIAN MICHAEL BENDIS (@BRIANMBENDIS) November 7, 2017
Bendis on Creating Riri Williams
Check out TIME's interview with Bendis about how he decided to make 15-year-old super genius Riri Williams Marvel's new Iron Man, Ironheart.
Bendis at TEDxCLE
Brian went to Cleveland to talk about making comics. The secret is to just make them! Watch it below:
Riri Williams Now on Sale!
Riri Williams in the all-new INVINCIBLE IRON MAN!
 
Bendis talks Miles Morales on Late Night With Seth Meyers!
[widgets_on_pages]